Exploration
Lundin Gold Exploration
Apart from the concessions related to Fruta del Norte, Lundin Gold has 25 metallic mining concessions which are in the exploration stage. These concessions are registered in the names of two of the Company's 100% owned subsidiaries: Aurelianmenor S.A. (17 concessions) and Surnorte S.A. (8 concessions). The concessions held by Surnorte S.A. are the subject of an earn-in agreement with Newcrest Mining Limited.


The Company's exploration is focused on the 38 km2 Suarez pull-apart basin (Suarez Basin) that hosts the Fruta del Norte epithermal gold-silver deposit. In the Company's opinion, the Suarez Basin is a highly prospective structure for hosting additional epithermal ore deposits. Early-stage exploration across the concession package has also identified orogenic gold, porphyry copper and skarn style mineralization.
Lundin Gold
Aurelianmenor Projects
The Fruta del Norte epithermal gold-silver deposit formed early in the development of the Suarez Basin and became buried by basin-fill sediments. Mineralizing fluids continued to flow through the permeable sediments and left the distinct alteration (illite and marcasite) and epithermal pathfinder geochemical signature (arsenic and antimony), which was used to make the original discovery. These anomalies may also exist over other buried epithermal gold-silver deposits elsewhere within the basin. Extensive mapping, stream sediment, rock, soil sampling and geophysics across the Suarez Basin has located multiple alteration, geochemical and geophysical anomalies that have been prioritized for scout drill testing.
Geophysical surveys completed include a helicopter Z-Tipper Axis Electromagnetic resistivity (ZTEM), a heli-magnetic and radiometric over the Suarez Basin and ground IP (Gradient Array and Pole – Dipole) over selected targets. The Fruta del Norte SW target is based purely on a structural interpretation that part of the Fruta del Norte deposit has been offset by the West fault and displaced along strike to the southwest.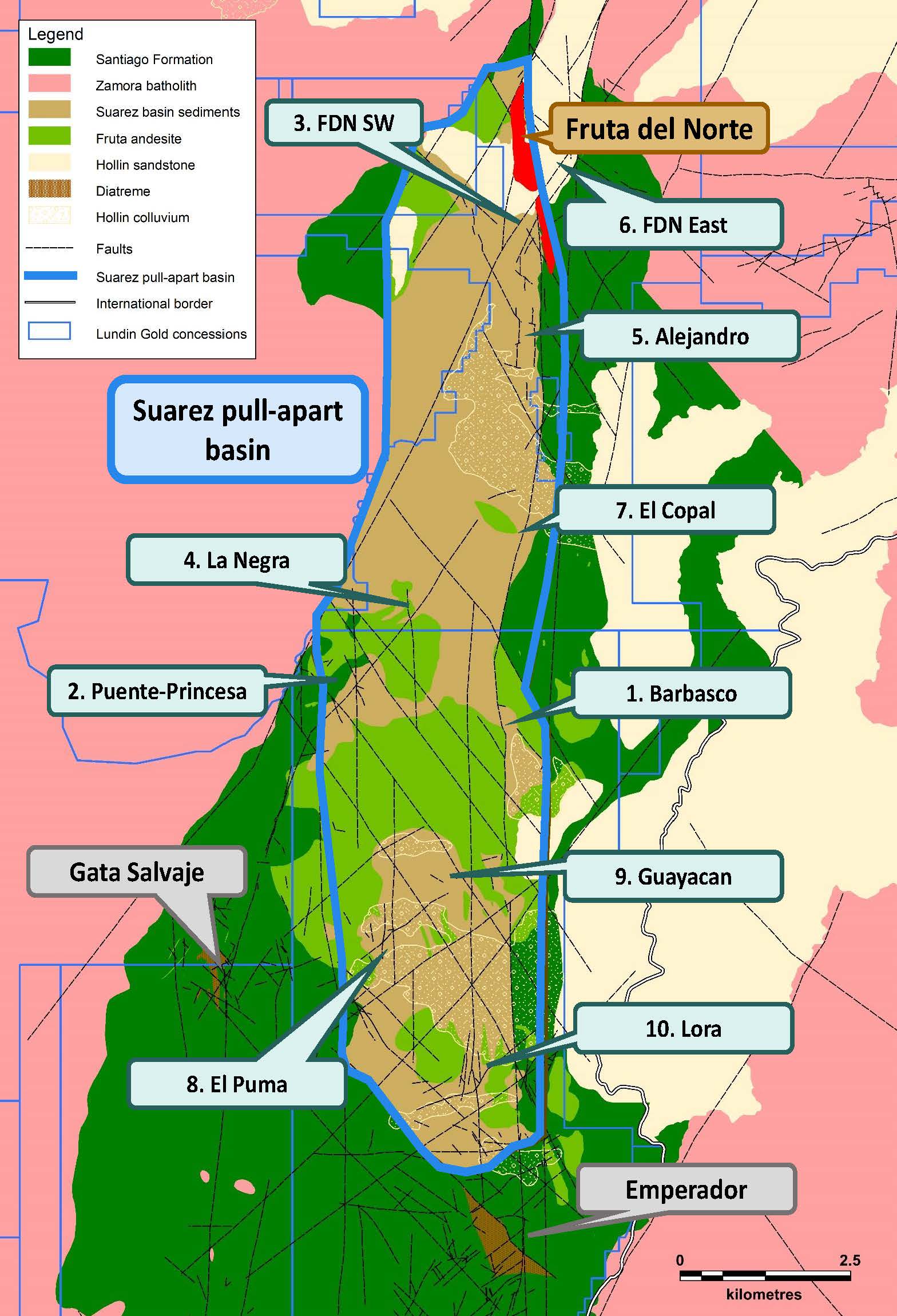 Epithermal gold-silver targets within the basin that have been delineated so far include:
Barbasco
Puente-Princesa
FDN Southwest
La Negra
Alejandro
BFDN East
El Copal
El Puma
Guayacan
Lora
Two additional epithermal gold-silver targets have been identified outside of the basin:
Gata Salvaje
Emperador (includes the Robles, Chanchito and El Arco targets)
Lundin Gold
Aurelianmenor Projects – Barbasco anomaly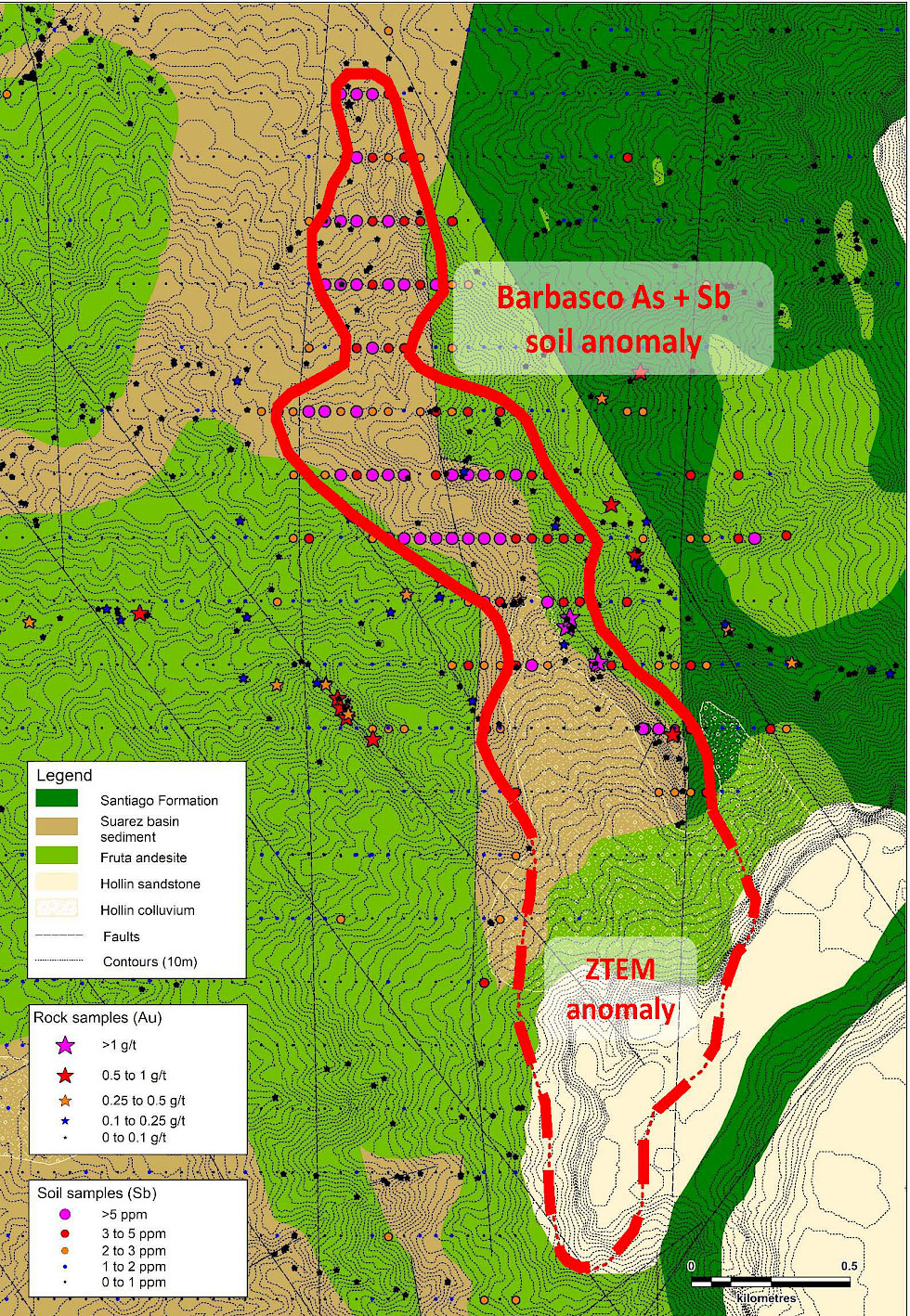 Click to Enlarge
Barbasco is Lundin Gold's highest priority target and is found on the Company's wholly owned Emperador concession, for which an exploration permit was received in September 2020. The target is located approximately 7 km south of the Company's Fruta del Norte gold mine, on the eastern edge of the 16 km long Suarez Pull-Apart Basin structure. The Barbasco target is defined by the epithermal pathfinder elements arsenic and antimony in both soil and rock samples and a ZTEM (resistivity) geophysical survey. The anomaly trends NNW for 3.8 km within the basin conglomerates and late andesites of the Suarez basin in an orientation and structural position similar to that of Fruta del Norte.
Lundin Gold
Surnorte Projects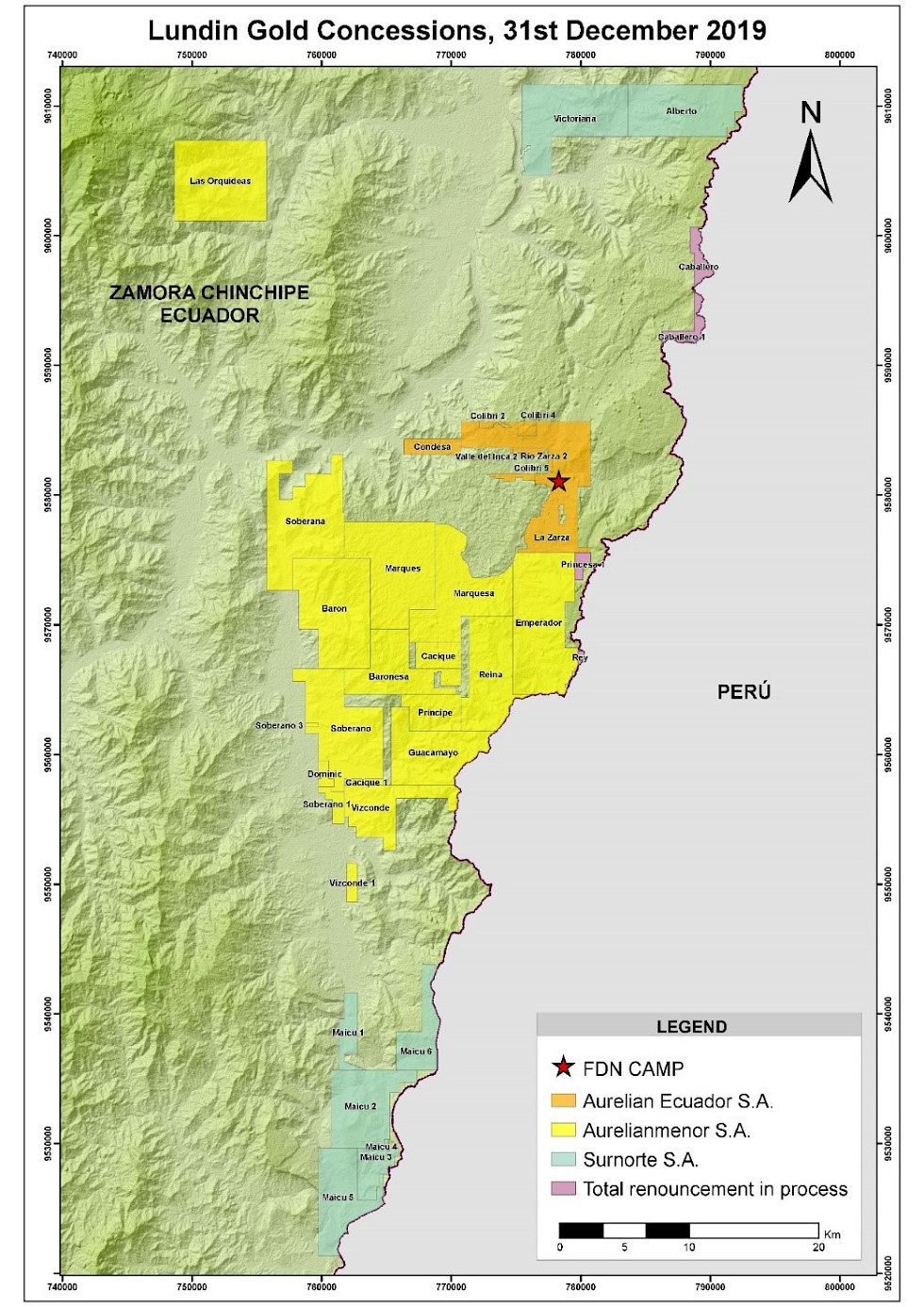 Click to Enlarge
In 2018, Lundin Gold entered into an Earn-In Agreement with Newcrest Mining Ltd. which provides for the creation of a joint venture company to explore eight early-stage concessions to the north (Alberto and Victoriana) and south (Maicus 1 to 6) of the Company's main concession block. Under the Earn-In Agreement, Newcrest Mining Limited (a subsidiary of Newmont Corporation) is operator and can earn up to a 50% interest in the joint venture company by spending $20 million over a five-year period.
The concessions subject to the earn-in are registered in the name of the Company's 100% owned subsidiary, Surnorte S.A.
Qualified Person
Technical information relating to Lundin Gold's exploration activities contained on this website has been reviewed and approved by Andre Oliveira, P. Geo, Vice President Exploration of the Company. Andre is a Qualified Person under National Instrument 43-101.